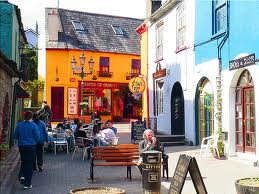 Kinsale is a small fishing village in Co. Cork right down in the South East of Ireland. Considered to be the 'gourmet capital of Ireland' it is packed full of cute, high quality restaurants and, of course, there is no shortage of great pubs!
While we are planning to keep you busy from Friday evening to Sunday afternoon if any of you are interested in spending a few more days in the area there are lots of things to do including...
Golf: The Old Head Golf Course is considered to be one of the most beautiful in the world, jutting into the Atlantic ocean...
Horse riding: The Kinsale Equestrian Centre offers short day treks in the area. Ballinadee Stables is also close by and also offers short treks
Sailing: Kinsale is a BIG sailing town, and sailing in this area offers some stunning views. Might be worth contacting Kinsale Yacht Charter or Kinsale Yacht club if you are interested in hiring a boat while in town
History: A trip up to Charles Fort in Kinsale is highly recommended (especially if the weather is nice). The views are stunning and it is the site of where the English forces finally beat the combined might of the Irish and Spanish in 1601 :(
Beauty: While Kinsale is no London or New York when it comes to spa offerings there a a few places if you fancy getting a quick manicure or treatment while in Kinsale. The largest spa in the area is at the C-Spa at the Carlton Hotel (about 10 mins outside Kinsale). Eileens beauty salon is in the centre of Kinsale. Or you could also try Monica's hair and nail care on +353 (0)21 477 4430
If you looking for more info on Kinsale or what to do in the area you should go to:
Kinsale Times (the Kinsale version of Time Out)
Discover Ireland (Ireland's official tourist website)
Local taxi companies
Kinsale cabs: 021 470 0100
Best price taxis: 087 237 1022
Dave's taxi's: 086 382 3325
Tom's taxi: 087 232 1022
For those of you thinking about using this as an excuse to finally take that holiday in Ireland you've always talked about, Kinsale is a great point from which to start or end your trip. You should take you time to explore the stunning scenery of Cork and Kerry before heading up the west coast of Ireland...some useful travel websites to help you start your planning:
Discover Ireland (Ireland's official tourist website)
Cork and Kerry : Tourist information
No info. on Ireland would be complete without some mention of the weather.....