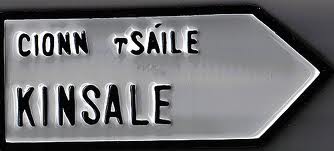 Our wedding is taking place in the small Irish fishing village of Kinsale.The nearest airport is Cork airport, which is only 20 mins away.

Flying from UK to Cork
For those of you coming from the UK a lot of flights serve Cork airport.
Aer Lingus flies to Cork from Heathrow, Gatwick, Edinburgh, Birmingham, Bristol, Glasgow and Manchester airports
RyanAir flies to Cork from Gatwick, Stansted and Liverpool airports
Aer Arann flies to Cork from Bristol, Cardiff, Edinburgh and Glasgow airports

Getting to Kinsale from Cork
There is a taxi rank at Cork airport and cost of taxi from airport to Kinsale is approx €35.
We may have some buses meeting some of the more popular flights. We will confirm directly with anyone of those flights closer to the date.
Alternatively if you would like to book transport in advance or arrange for something larger than a standard car you can book transport to/from Kinsale with Kinsale Limos. They have a range of vechicles available and those of you on the same flight may want to share one of the larger vechicles between you. The options and costs are as follows:
- 4-6 passengers: €70
- 8 passengers: €80
- 10-12 passengers: €120
- 16 passengers: €150
- 20 passengers: €180
Contact details:
Mobile: +353 87 283 0585
Landline: +353 21 477 4846
Email: info@kinsalelimos.com

Once in Kinsale, there are a number of local taxi companies:
Kinsale cabs: 021 470 0100
Best price taxis: 087 237 1022
Dave's taxi's: 086 382 3325
Tom's taxi: 087 232 1022

Coming from other locations
For those of you coming from further afield and don't fancy a London stop-over there are quite a few direct flight options into Dublin (3.5 hrs from Kinsale), Shannon (2.5 hrs from Kinsale) and Cork (20 mins from Kinsale) airports. More details can be found on the airports websites:
Dublin Airport : Covers most European capitals and some of the more exotic destinations such as Abu Dhabi, Toronto, Chicago, Atlanta, New York, Boston and Orlando.
Shannon Airport: There are direct flights to Shannon from New York and Boston airports. I even believe there's a direct flight from Toronto (but only once a week!)
Cork Airport: A few European cities such as Barcelona, Paris, Amsterdam, Munich, Geneva and Rome have direct flights into Cork.
Shannon & Dublin airports: Anyone flying into these airports will need to hire a car to get to Kinsale or make their way to Cork via train or bus and get a taxi from Cork.

Car Hire
Once in Kinsale you will not need a car as everything is within walking distance of the centre of town. We will be organising transport to bring people to/from centre of Kinsale to the wedding venue (only 5 mins from centre of Kinsale) on the Saturday.
If you do wish to hire a car Cork airport provides a range of car hire options. Please note if you are a UK driving licence holder you may be asked for the paper copy of your driving licence and should bring it with you.

Ferry Option
If you are feeling a bit adventurous and want to test your car on the Irish roads the best ferry options from the UK are:
Stena Line: From Fishguard to Rosslare (approx.. 3hrs from Kinsale)
Irish Ferries: From Pembroke to Rosslare
Fastnet: From Swansea to Cork

IMPORTANT BORING STUFF: In case you need to do a quick check on whether you need a visa or not for Ireland, take a look at the Irish Department of Foreign Affairs website which contains all the exciting details.